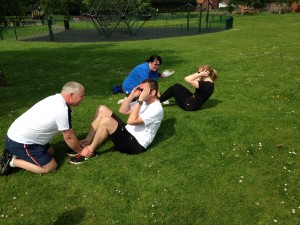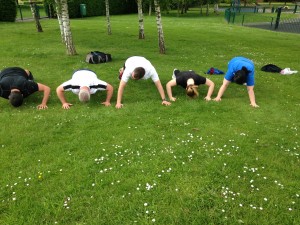 Every three to four weeks, a number of club members and our non-karate friends get together for a one hour 'Boot Camp' style session in Little Stanney Park, Neston.  The session comprises a mixture of cardiovascular and strength exercises and we favour partner work and using the facilities around us rather than any complicated equipment.  The objective is to improve our general fitness and energy levels and also to enjoy ourselves out in fresh air.  All adults are welcome at the sessions as are children over 12 (or juniors graded to brown belt or above at the club).
There is no karate experience required – this is NOT a karate lesson and the sessions have no martial arts content whatsoever.
Everybody goes at their own pace – there is no pre-requisite level of fitness or strength and nobody EVER gets ridiculed or shouted at.  The atmosphere is one of friendly encouragement and support
Males and females participate in equal numbers and the regular age range is from young teenagers to early fifties
The sessions are completely free and take place on a Sunday morning from 10:00 until 11:00 – please see the news page for dates of forthcoming sessions.  Feel free to ask us any questions, but the key message is that all are welcome.